Key Point:
News has been put on hold until its Pink Current Status is restored. As mentioned in todays tweet, there are some Gold Division related events ready to be released. A significant pending update can be seen in a recent tweet, in which DLCR said,
---
Today (August 22, Sunday, 2021) Kibush Capital Corp (DLCR) released a brief update to its shareholders in a tweet, confirming that the last of the needed filings to back to OTC pink current are complete, and should be filed this week.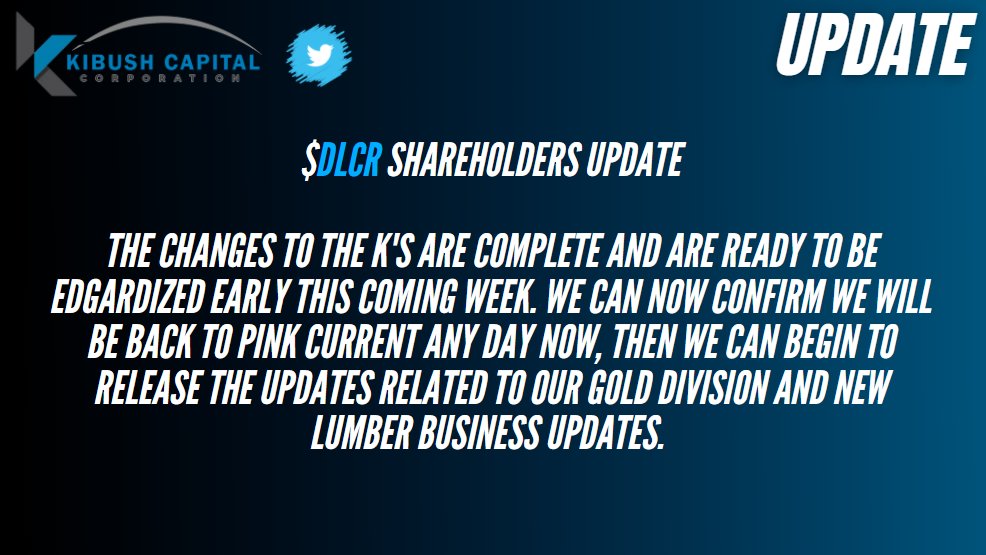 This comes out just as Kibush Capital Corp (OTC:DLCR) that it has officially entered the Gold Mining industry, following an extremely successful logging venture the company completed, which witnessed a 400% increase in lumber production capabilities. This is significant as the price of lumber has been sky rocketing since January, and there is no sign of it letting down. From this, the company has signaled that it has exceeded its expectations, and will be re-visting a previous venture that was put on hold, that of multiple site gold mining.
Kibush Capital Corporation (OTC: DLCR) is pleased to announce that it has increased its lumber production capability by an estimated 400%. Previously, the company was able to produce 6 cubic meters of lumber per day, but now following a third processing machine going online with new upgrades for the other two, the company is now able to produce up to 30 cubic meters of lumber per day.
Since the company is happy with its current lumber production capabilities, they have now officially announced they have enterered the Gold Mining Industry, by stating,
$DLCR Shareholders. It's Official. We are back in the Gold Industry! We have received initial reports of the area we are targeting, now negotiating with the major landowners. We are sending a gold expert to the site shortly to confirm, so we can begin formalizing a joint venture
---
Kibush Capital also owns a mining venture company, that of Aqua mining. Aqua Mining is a wholly owned subsidiary of Kibush Capital and is currently in the exploration stage. Aqua Mining was created to undertake certain opportunities that exist within the mining sector of the economy of Papua New Guinea. From the outset the company is negotiating over 2 mine sites for further exploration.
Aqua Mining
These Joint Venture Agreements will form the basis of applications to the Mining Resource Authority in PNG for Mining Licenses. In addition, Aqua Mining has been accepted as a developer of AML 694-695.
---
Interestingly, the company has also entered the CBD market, with a recent CBD Acquisition that connects it with a CBD import company, as well as various import licenses to import and sell it over the counter in Australia. These Licenses allow the company to begin immediately importing CBD products into Australia and hit the ground running.
Warren Sheppard, CEO of DLCR had the following to say, "We are very excited to announce that we have officially entered the Cannabis market, with a acquisition of a CBD import company, as well as the issuance of a CBD import and export license, which is still a rare thing here in Australia. We are planning to focus on a number of CBD products, across various CBD sub-sectors to fully utilize the new CBD licenses we are now in possession of."