B2Digital, Inc. (OTC:BTDG) announced today they will be launching a full summer of Mixed Martial Arts Fight nights, as the US continues to ease restrictions on large scale events. This marks a major milestone for the company as they can now begin to build their brand, starting with a packed summer fight schedule. Below is the full fight schedule, with the first coming up this Friday, May 29th in Nashville.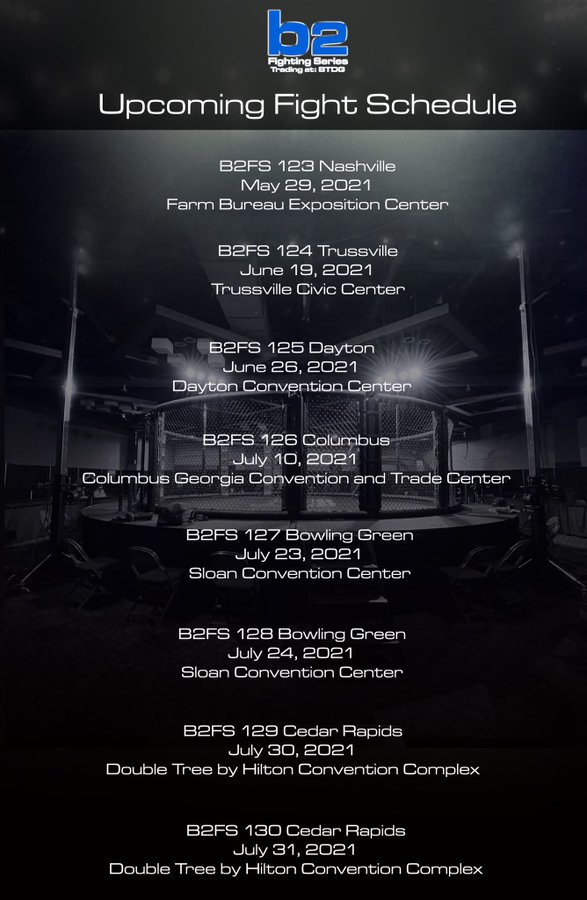 ---
The company has also recently announced a major new signing, apart of their expanding management team. Former Fight of the Night winner (multiple times) Chris Lytle. The company had the following to say on their new signing.
Chris Lytle – EVP, Fighter Development. Chris is a veteran of combat sports, competing in 20 UFC fight events, earning six UFC Fight of the Night honors, three Submission of the Night honors, and one KO of the Night honor. He has also competed in 15 professional boxing matches. In total, Chris has compiled 23 years of combat sports experience, including fighting, training, coaching, and promoting. Chris will be responsible for all facets of fighter development and fighter relations as well as holding the position of Chairman of the Fighter Advisory Board.
---
Most significant is the recent trend MMA events like these, showing upwards of 1,500% increases on average in PPV sales, and higher adjusted gate attendances as more and more restrictions are beginning to lift. The company had the following to say in a recent press release.
---
In addition, both the rate of events per month and the contribution of PPV sales are seen as escalating versus pre-pandemic assumptions, with PPV sales increasing 1,550% on average, per event, compared to pre-pandemic levels, and the Company now on pace to put on 50 or more events per 52-week period, which represents an increase of roughly 100% as compared to pre-pandemic levels.

While these are unaudited financial performance figures, these trends – substantially understated gate sales, rapidly increasing PPV sales, and a significantly boosted pace of Live Events – together suggest that the Company's projections for revenues related to its Live Event segment should be adjusted higher.

Bell added, "The upshot is this: through updates and investments in our team, equipment, and expertise, we have acquired the capacity to put on Live Events at a much faster pace than we have in the past. At the same, our PPV marketing has evolved to produce much better results, and we are also likely approaching the end of live crowd attendance restrictions before too much longer, which should have a large impact on cash flowing in the door, especially given the accelerated frequency of our events. Finally, we are also likely on the doorstep to beginning the process of monetizing our brand and events through the sponsorship channel. That is another significant factor that we believe will become a major part of our longer-term strategic roadmap."